The idea of a public library for Rock Rapids first originated in the minds of the women who organized the Ladies Reading Circle in 1892. To start the good work a "Book Banquet" was held on the evening of March 24, 1893, and every guest was asked to bring a book. These volumes formed the nucleus of the library. Other events were held to raise funds for more books.
After about two years the club presented this small library to the city of Rock Rapids. A room upstairs in the city fire station was used for the library. In December 1896 the books were moved to the high school building and merged with the school library. In July 1899 the library board asked for a permanent place for the books. The following year a small building was purchased at the corner of Greene and Main.
In 1908 Mr. O. P. Miller and the heirs of the J. K. P. Thompson estate bought a building from the Peoples church and presented it to the city to use as a library. This building was located at First Avenue and Greene Street and served as the public library from 1908 to 1976. In 1977 this building was sold and moved to another location.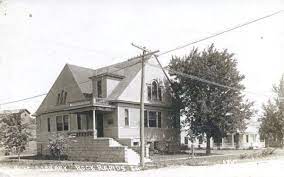 The new library building was constructed at the same location at First Avenue and Greene Street and opened in 1978.